LEAGUE MESSAGE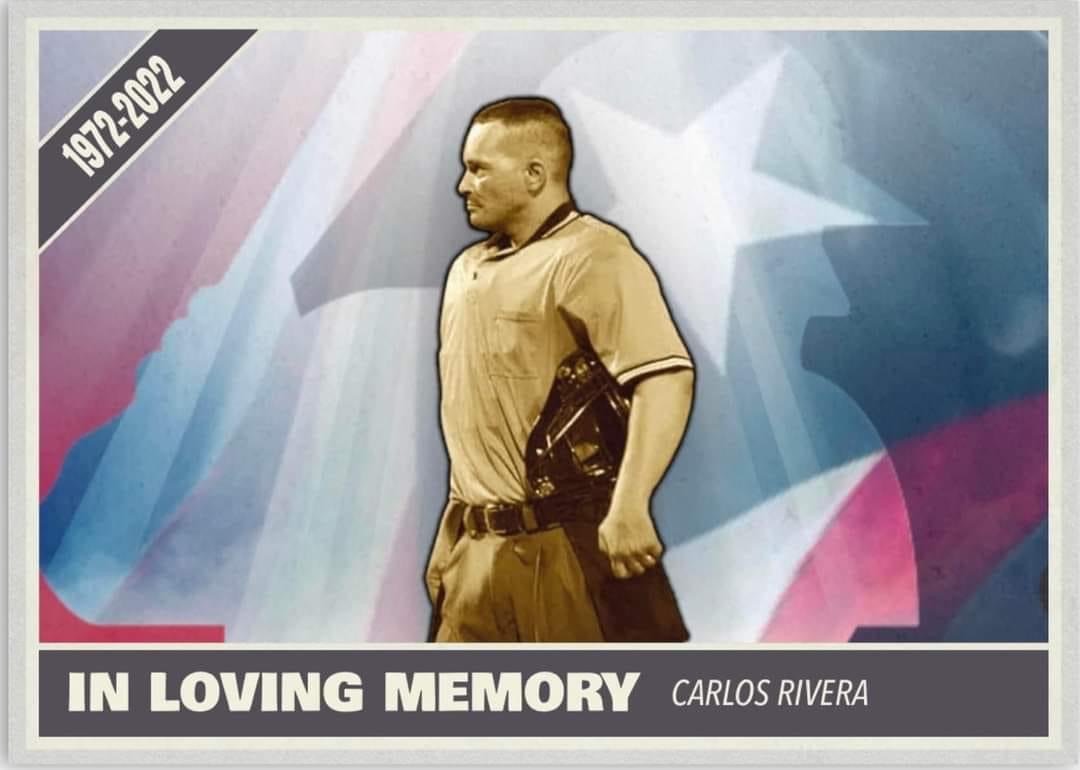 The Chicago North MSBL would like offer our deepest condolences, on the passing of Carlos Rivera. Carlos has been umpiring in our league for a great many years. He was kind, fair and beloved by our baseball community. Our thoughts go out to his loved ones. Funeral will be on Monday October 31st from 3-8pm at
Casey & Rios Funeral Home - 4540 W. Diversey Ave. Chicago, IL
CHICAGO NORTH WEBSITE WILL CONTINUE TO TAKE DONATIONS FOR THE WOUNDED WARRIOR PROJECT AND MAYOR COPELANDS VETERANS FUND. BOTH ALL STAR GAMES PLAYED SATURDAY AT BLOCK STADIUM IN EAST CHICAGO WERE BOTH EXCITING AND WELL PLAYED. THUS FAR WE'VE RAISED $2000 FROM GATE RECEIPTS AND SHIRT AND CAP SALES AND WE ALSO STILL HAVE SOME ALL STAR TEE SHIRTS AVAILABLE IN AD SM, AD MD, AD XL, AD XXL AND AD XXX AS WELL AS GAME CAPS , PRICE $20 EACH WITH.
USE THE MISC PAYMENTS LINK ON THE MAIN PAGE THEN CLICK CHARITIES TO MAKE A CONTRIBUTION. IF MAKING A DONATION , ON COMMENT LINE DESIGNATE EITHER "WOUNDED WARRIOR PROJECT" OR MAYOR COPELANDS "VETERANS FUND". THE GAMES WERE LIVE STREAMED ON TWITCH TV ON THE CNMSBLTV CHANNEL AND WILL BE AVAILABLE AFTERWARDS ON U-TUBE ALSO AT CNMSBLTV.
CNMSBL All Star Game
Saturday July 9th - Block Stadium - 1601 East 144th Street, East Chicago, IN
1:35 PM - The CNMSBL 24 Dividion All Stars 3 La Grange MABL ALL STARS 0
4:35 PM - The CNMSBL 44 Division All Stars 12 45 South Suburban All Stars 9
Click on the images to see a larger version
CNMSBL 44+ All Star Team

South Suburban 45+ All Star Team
CONGRATULATIONS TO THE 2022 CNMSBL CHAMPIONS




24s RIPPERS 4-PEAT






34s REDSOX CHAMPIONS






44 PCL WOODPECKERS REPEAT






44 AA ORIOLES






52s MUDVILLE 9 REPEAT






60s

NATIONALS






65s GIANTS



We are live streaming CNMSBL game broadcasts this season . Live games can be viewed at the following link
http://www.twitch.tv/cnmsbl .
Games streamed from this season, the 2021 regular season along with selected playoff and Championship game broadcasts can be viewed on demand on YOU-TUBE at CNMSBLTV. Check them out.
We ask that you subscribe or like (no costs). Games will be available on UTube within 2 days for on demand view at cnmsbltv. We would like all of our membership to subscribe to our channel and hope to have scheduled games of the week this season on the schedule. These broadcast hopefully can lead to ads and sponsorship money for the league and it's teams and hopefully assist in keeping fees stable in this time of inflation. Your viewing can make a difference!




OPEN HITTING AT

PLAY BALL USA

HAS OFFICIALLY

OPENED

FOR THE SEASON

FOR TOURNAMENTS
EVERY THURSDAY at 8:00 PM 604 W. Central Rd in Mt. Prospect (off NW Hwy)
8 Cages and 2 Mounds, No Inside Turf
EVERY SUNDAY AT 8:00 PM at our NEW LOCATION Beginning in January 2023
2060 CARBOY in Mt. Prospect (Just off Algonquin and Rt. 83)
Multiple cages, Mounds, Live Hitting areas and Turf for grounders and long toss
$15 Per Player or buy a 10-use card for $100 (non-expiring)
FYI, in the case of a medical emergency at a game at Rec Park, send someone to the Pool and for help from the life guards, they will be able to assist till the responders arrive. Always call 911 immediately
Dr. Preston Wolin serves as the director of sports medicine at Weiss and a pitching coach at Ida Crown.