LEAGUE MESSAGE


The Hit Musical "MIRACLE"
Based on the 2016 Chicago Cubs Championship Season
CNMSBL members recieve a 25% discount - Now through Labor Day
Click Here for more info
SCHEDULE FOR THE WEEK OF AUG 12TH



FRID AUG 16TH 6:00 PM REC PARK 61 DIV CARDINALS

1

@ CUBS

4


FRID AUG 16TH 8:30 PM REC PARK 61 DIV OUTLAWS @ SEADOGS

Rained out


FRID AUG 16TH 6:30 PM OAKTON 24 DIV KNIGHTS

1

@ PIRATES

0


FRID AUG 16TH 9:00 PM OAKTON 24 DIV KNIGHTS

1

@ RIVERBANDITS

3


SAT AUG 17TH 9:00 AM BENSENVILLE 61 DIV PANTHERS

3

@ MUDVILLE

8


SAT AUG 17TH 11:45 AM BENSENVILLE 53 DIV CUBS @ YANKEES

Rained out


SAT AUG 17TH 2:15 PM BENSENVILLE 61 DIV KNIGHTS @ ZEPHYRS

Rained out


SAT AUG 17TH 10:00 AM OAKTON 53 DIV REDHAWKS

3

@ DODGERS

4


SAT AUG 17TH 1:00 PM OAKTON 53 DIV REDS @ MUDVILLE

Rained out


SUN AUG 18TH 10:00 AM OAKTON 44 DIV CHIEFS @ RIVERBANDITS
SUN AUG 18TH 1:00 PM OAKTON 44 DIV BRAVES @ PHILLIES
SUN AUG 18TH 4:00 PM OAKTON 34 DIV ASTROS @ WOODPECKERS
SUN AUG 18TH 7:00 PM OAKTON 34 DIV A's @ ACES
SUN AUG 18TH 9:00 AM BENSENVILLE 65 DIV AMERICANS @ NATIONALS
SUN AUG 18TH 11:45 AM BENSENVILLE 44 DIV YANKEES @ ROYALS
SUN AUG 18TH 2:30 PM BENSENVILLE 44 DIV JACKALS @ ROCKHOUNDS
SUN AUG 18TH 5:00 PM BENSENVILLE 34 DIV JAYS @ ROCKHOUNDS
SUN AUG 18TH 7:30 PM BENSENVILLE 44 DIV JAYS @ ORIOLES
SCHEDULE FOR THE WEEK OF AUGUST 19TH
MON AUG 19TH 6:15 PM BENSENVILLE 24 DIV QTR FINAL GM1 RIVERBANDITS @ ACES
MON AUG 19TH 8:45 PM BENSENVILLE 24 DIV QTR FINAL GM1 POWER @ EXPOS
MON AUG 19TH 6:30 PM OAKTON 24 DIV QTR FINAL GM1 PIRATES @ FINEST
MON AUG 19TH 9:00 PM OAKTON 24 DIV QTR FINAL GM1 KNIGHTS @ RIPPERS
TUES AUG 20TH 6:00 PM REC PARK 53 DIV CUBS @ REDS
TUES AUG 20TH 8:45 PM REC PARK 53 DIV DODGERS @ BLUEJAYS
TUES AUG 20TH 3:00 PM BENSENVILLE 65 DIV GIANTS @ A's
TUES AUG 20TH 6:15 PM BENSENVILLE 34 DIV ASTROS @ 51S
TUES AUG 20TH 8:45 PM BENSENVILLE 34 DIV ROCKHOUNDS @ DEVILS
WED AUG 21ST 6:15 PM BENSENVILLE 44 DIV YANKEES @ ORIOLES
WED AUG 21ST 8:45 PM BENSENVILLE 44 DIV ROCKHOUNDS @ CHIEFS
WED AUG 21ST 6:00 PM REC PARK 61 DIV ZEPHYRS @ 1917 WHITE SOX
WED AUG 21ST 8:30 PM REC PARK 53 DIV MUDVILLE @ REDHAWKS
WED AUG 21ST 6:00 PM OAKTON 61 DIV SEADOGS @ TITANS
WED AUG 21ST 8:30 PM OAKTON 44 DIV JACKALS @ MUDHENS FINISH 5TH INN
WED AUG 21ST 9:00 PM OAKTON 44 DIV MUDHENS @ JACKALS
THUR AUG 22ND 6:30 PM OAKTON 34 DIV DEVILS @ ASTROS
THUR AUG 22ND 9:00 PM OAKTON 34 DIV DEVILS @ ACES
THUR AUG 22ND 3:00 PM BENSENVILLE 65 DIV RANGERS @ PADRES
THUR AUG 22ND 6:15 PM BENSENVILLE 44 DIV RIVERBANDITS @ ORIOLES
THUR AUG 22ND 8:45 PM BENSENVILLE 34 DIV BLUE SOX @ ROCKHOUNDS
FRID AUG 23RD 6:15 PM BENSENVILLE 24 DIV PLAYOFFS QTR GM2 RIPPERS @ KNIGHTS
FRID AUG 23RD 8:45 PM BENSENVILLE 24 DIV PLAYOFFS QTR GM2 FINEST @ PIRATES
FRID AUG 23RD 6:30 PM OAKTON 24 DIV PLAYOFFS QTR GM2 EXPOS @ POWER
FRID AUG 23RD 9:00 PM OAKTON 24 DIV PLAYOFFS QTR GM2 ACES @ RIVERBANDITS
FRID AUG 23RD 6:00 PM REC PARK 61 DIV KNIGHTS @ CUBS
FRID AUG 23RD 8:30 PM REC PARK 61 DIV 1917 WHITE SOX @ TITANS
SAT AUG 24TH 9:00 AM BENSENVILLE 61 DIV OUTLAWS @ ZEPHYRS
SAT AUG 24TH 11:45 AM BENSENVILLE 53 DIV BLUEJAYS @ REDS
SAT AUG 24TH 2:15 PM BENSENVILLE 61 DIV CARDINALS @ MUDVILLE
SAT AUG 24TH 10:00 AM OAKTON 53 DIV CUBS @ MUDVILLE
SAT AUG 24TH 1:00 PM OAKTON 53 DIV REDHAWKS @ YANKEES
SUN AUG 25TH 10:00 AM OAKTON 44 DIV JACKALS @ ORIOLES
SUN AUG 25TH 1:00 PM OAKTON 34 DIV 51's @ A's
SUN AUG 25TH 4:00 PM OAKTON 34 DIV ROCKHOUNDS @ 51's
SUN AUG 25TH 7:00 PM OAKTON 34 DIV ASTROS @ ROCKHOUNDS
SUN AUG 25TH 9:00 AM BENSENVILLE TBA
SUN AUG 25TH 11:45 AM BENSENVILLE 44 DIV PHILLIES @ YANKEES
SUN AUG 25TH 2:30 PM BENSENVILLE 44 DIV MUDHENS @ BRAVES
SUN AUG 25TH 5:00 PM BENSENVILLE 34 DIV JAYS @ ASTROS
SUN AUG 25TH 7:30 PM BENSENVILLE 44 DIV JAYS @ RIVERBANDITS










OPEN HITTING AT PLAY BALL USA - OVER UNTIL THE END OF THE SEASON.
IF YOU NEED A TEAM PRACTICE DUE TO A RAINOUT OR JUST TO GET WORK IN, WE WILL WORK WITH YOU TO GET IT IN
MULTIPLE BATTING CAGES, MOUNDS, 3 TURF AREAS FOR LONG TOSS AND GROUNDERS
412 E. BUSINESS CENTER DR. MT. PROSPECT, IL. (2ND BUILDING EAST OF RAND RD. 1/2 MILE NO. OF CENTRAL)

Chicago Grays 7, San Diego Aztecs 6
'Ociepka Takes Control on the Bump'
By Jake Rill, special to MSBL National
October 26, 2018, Mesa, AZ…In a tough spot, Chicago Grays pitcher Paul Ociepka knew what he needed to do to secure a victory – and a championship – for his team. With Chicago leading by one run, the San Diego Aztecs had the bases loaded with two outs in the bottom of the ninth inning. Jeffery Aguirre came to the plate to face Ociepka, looking to complete a comeback victory for San Diego.
Ociepka wasn't going to let that happen. "I've just got to man up, and that's what I did," Ociepka said. Ociepka got Aguirre to ground into a fielder's choice to third base, securing a 7-6 win and the 65+ Cactus Division championship.
After the ball left Aguirre's bat, it wasn't a simple play for the Grays. Chicago third baseman John Malisiaknocked down the ball, before regrouping, gathering the ball and beating the runner to the bag at third for the force out. "I can't let it get by me," Malisia said. "I've been playing on one leg for the last couple games, so I just wanted to make sure that I kept it in front of me. As long as I did that, hopefully you get to the base before the guy did."
Malisia's play sealed a complete-game victory for Ociepka, who found his rhythm on the mound during the middle innings. While Chicago took a 6-4 lead after three innings, Ociepka didn't allow a run in the fourth, fifth, sixth and seventh. That included a 1-2-3 sixth. "He was unbelievable," Gray's manager Steve Faigin said of Ociepka. He retired the first two San Diego batters in the ninth before the Aztecs started to rally. San Diego scored a run to cut Chicago's lead to one run before Ociepka escaped the bases-loaded jam to end it.
Chicago swung the bats well early to build a lead for Ociepka. The Grays scored two runs in the first. Leadoff hitter Ken Seelie scored on a wild pitch after drawing a walk and stealing a pair of bases then Joe Kutis later added an RBI single. However, the Aztecs answered back in the bottom of the first scoring three runs, including an RBI groundout by Henry Rimoldi. Chicago took back its lead with a four-run second. Seelie hit a two-run double, Dan Doleshal drove in a run with a ground out and Dave Pickering knocked an RBI double."We held it together," Faigin said.
Pickering went 2-for-3 and reached base three times for Chicago. Seelie and Ricky Martin each scored a pair of runs. The Grays, who were the No. 7 seed in their division for the World Series, got off to a slow start in the tournament, losing two of their first four games. However, they ended the week with five consecutive victories, including beating the Aztecs in the championship game. In order to win the title, Chicago had to sweepdoubleheaders on its final two days, which they did.
"It was exciting, thrilling to the last pitch," Faigin said. "It was unbelievable. These guys are the greatest bunch of guys I've ever played with." For Ociepka, who said he won his first MSBL World Series championship in 1993, it was also memorable.
"This is very, very special," Ociepka said.
Announcement
The CNMSBL will be introducing it's weekday afternoon "Classic" Division this season. They will be playing on Tuesdays and Thursday with a two team division supplemental games on Sundays.
65 + Classic Division
Dear senior baseball players, the 65 + Classic Division is primed and ready for 2019.
Our new division is designed for guys who didn't get enough playing time in the 61 division or those of us who have lost a step or 2...
To start with,we will have 4 teams , playing one game a week either on Tuesday or Thursday afternoon at 3:00 PM.
We will also have a two seperate teams playing on limited Sunday mornings.
All players that are unprotected from the 61 division will be placed on a week day 65 Classic team.
Please register and pay a $75 deposit. If you want to play on Sunday also, please deposit $150.
If you are protected, did not play in CNMSBL in 2018, or cannot play because of work; and you desire to play on Sunday only.
please contact Bob Friedman at rfriedman@bensman.com.
65 + Classic Division Facts
* Relaxed, recreational rules for the Senior Player.
* Week day games will likely be at Bensenville.
* Younger players may be eligible on a case by case basis.
* Week day league is for 15 games, includes a team hat and shirt, $265.
* Sunday league 8 games , will cost $100.
Feel free to pass this along
Robert A. Friedman
Commissioner

Fees for the 53s and 61s are $440.00 per player.
$10 OPEN HITTING AT PLAY BALL USA IN MT. PROSPECT - $10 PER PLAYER
EVERY MONDAY AND WEDNESDAY NIGHT IN MARCH AND APRIL AT 8:00 TO 10:00 PM
MULTIPLE BATTING CAGES, MOUNDS, 3 TURF AREAS FOR LONG TOSS AND GROUNDERS
412 E. BUSINESS CENTER DR. MT. PROSPECT, IL. (2ND BUILDING EAST OF RAND RD. 1/2 MILE NO. OF CENTRAL)
PARKING IN BOTH THE FRONT LOT AND BACK OF THE BUILDING
Congratulations to the CNMSBL and it's membership on the Leagues induction into "The Skyway Conference" sports Hall Of Fame for it's support and partnership with Oakton Community College Academics, Sports & Baseball for the past 25 years !



Oakton Owls defeat 4 Time Champion Tyler (Tx) 14 to 11 in a 13 inning marathon today to become National Champions !!!! Congratulations to Head Coach Fratto and his staff as well as the entire Oakton squad.
Congratulations to those awarded at the 2019 annual Pitch and Hit Club Banquet
2019 Award Winners will receive their award at this years banquet Jan 27th at the Tinley Park Convention Center, tickets are available contact Max Reising for more information.
Lou Boudreau Hall of Fame:

Ken "Hawk" Harrelson

Ron Santo Inspiration Award:

Ralph Peterson

Harry Caray Sportscaster of the Year Award:

Dan Plesac

Bill Gleason Sportswriter of the Year:

Dick Goss

Nick Kamzic Scout of the Year Award:

Michael Medici

Mary Frances Veeck Woman of the Year Award:

Natalie Niekro

College Coach of the Year:

Bill Fratto Oakton Community College

Chicago Area Minor League Player of the Year:

Corey Ray

Len Diforte Amateur Baseball Service Award:

Mark Bajenski

College Player of the Year:

Bren Spillane (Drafted by Reds in 3rd round)

Lifetime Achievement Award:

Jeff Szynal

Chicago Rookie of the Year:

Dan Palka

Major League Coach of the Year:

Pat Murphy

High School Coach of the Year:

Sean Mason

Youth Organization of the Year:

Steven Korbal

Professional Organization of the Year:

Joliet Slammers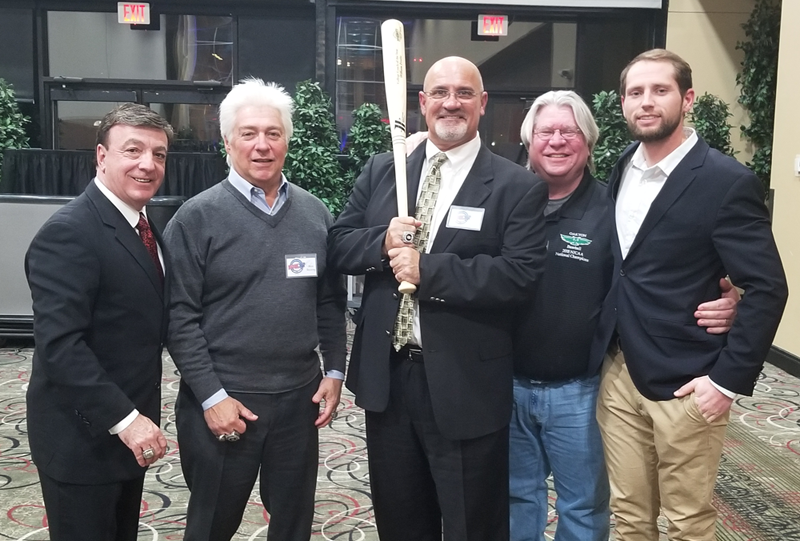 From left to right: Mike Pinto founder of the cnmsbl, GM and manager of the Frontier league Mariom Minors and former head coach at Oakton. Max Reising Oakton Coach, Bill Fratto Head Coach, Bruce Oates A.D. Oakton and Ryan Tuntland current coach at Oakton, former player there and at West Virginia and former minor league player for the S.F Giants 3 seasons.
The 2019 Season marks our 32nd year of providing the best adult baseball league experience in the Midwest .
April 2016 WGN Promo on our league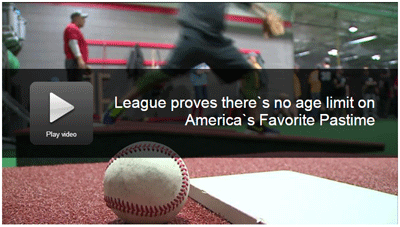 FYI, in the case of a medical emergency at a game at Rec Park, send someone to the Pool and for help from the life guards, they will be able to assist till the responders arrive. Always call 911 immediately
Dr. Preston Wolin serves as the director of sports medicine at Weiss and a pitching coach at Ida Crown.