LEAGUE MESSAGE
The CNMSBL has the following Divisions, 24 and up, 34 and up, 44 and up, 54 and up, 62 and up AAA and AA(divisions) and a new recreational Division, 68 and up. If you have a team or a group of at least 6 players looking to form a team in one of our divisions, contact league President Max Reising at 773-793-8713 or maxr13cn@gmail.com. If you are an individual looking to play "hardball" register for the draft and you will be put on a supplimental list.
Keep Sharp and/or Get Ready for the upcoming Season.
Play Ball USA has $10 Open Hitting Nights, now through the end of April
- Monday Night from 8:30 to 10 PM.
- Saturday Morning from 9:00 to 10:30 AM.
- Sunday Night from 7:00 to 8:30 PM.
$10 Per Player for hitting, pitching and fielding.
5 cages (all with Iron Mikes), 2 mounds, turf areas for grounders.
Additional Days/Times available for Team practices and Individual Lessons (Hitting and Pitching).
412 E. Business Center Dr. in Mt. Prospect (just off Rand and Business Center, 1/2 mile north of Central).
Congratulations to those awarded at the 2018 annual Pitch and Hit Club Banquet
2018 Award Winners
Lou Boudreau Hall of Fame: Don Cooper, Chicago White Sox Pitching Coach
Scout of the Year Award: Stan Zelinski
Bo Jackson Courage Award: Evan Knoblauch-Rhodes Garland
Mary Frances Veeck Woman of the Year Award: Angela Christino
Len Diforte Amateur Service Award: Max Reising
Minor League Player: Ryan Borucki
Chicago Rookie of the Year: Nick Delmonico - Chicago White Sox
Ron Santo Inspiration Award: Tony Esposito
Charlie Hum Service Award: Rich Budziak
Organization of the Year: Schaumburg Boomers
College Coach of the Year: Todd Post, Kankakee Community College
Amateur Teams of the Year: Chicago Finest & Chicago Bravest
The 2018 Season marks our 31st year of providing the best adult baseball league experience in the Midwest .
April 2016 WGN Promo on our league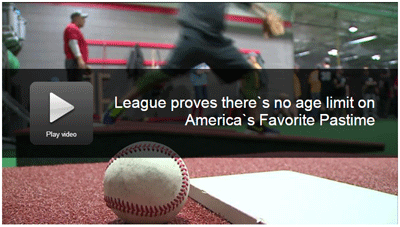 FYI, in the case of a medical emergency at a game at Rec Park, send someone to the Pool and for help from the life guards, they will be able to assist till the responders arrive. Always call 911 immediately
Dr. Preston Wolin serves as the director of sports medicine at Weiss and a pitching coach at Ida Crown.