LEAGUE MESSAGE
Announcement
The CNMSBL will be introducing it's weekday afternoon "Classic" Division this season. They will be playing most likely on Tuesdays and Thursday with supplemental games on Sundays.
65 + Classic Division
Dear senior baseball players, the 65 + Classic Division is primed and ready for 2019.
Our new division is designed for guys who didn't get enough playing time in the 61 division or those of us who have lost a step or 2...
To start with,we will have 4 teams , playing one game a week either on Tuesday or Thursday afternoon at 3-3:30 PM.
We will also have a Sunday league likely playing in the morning.
All players that are unprotected from the 61 division will be placed on a week day 65 Classic team.
Please register and pay a $75 deposit. If you want to play on Sunday also, please deposit $150.
If you are protected, did not play in CNMSBL in 2018, or cannot play because of work; and you desire to play on Sunday only.
please contact Bob Friedman at rfriedman@bensman.com.
65 + Classic Division Facts
* Relaxed, recreational rules for the Senior Player.
* Week day games will likely be at Bensenville.
* Younger players may be eligible on a case by case basis.
* Week day league is for 15 games, includes a team hat and shirt, $265.
* Sunday league 8 games , will cost $100.
Feel free to pass this along
Robert A. Friedman
Commissioner

In connection with the advent of this Division, the 62s Division will become the 61s for the 2019 Season and in 2020 will settle in as a 60s Div which is what it originally was. In conjunction with this change, the 54 Division will now be a 53 Division for the 2019 Season and will settle in as a 52 Div in 2020. The 24s, 34s & 44s will remain as is.
We are also looking into bring back the All Star games this season, more on that in January.
The Tryouts and Draft are scheduled for Saturday March 9th at Play Ball in Mt. Prospect.
5:00 PM start and running to 9:00 PM, with Divisional age group start times to be determined
The early payment discount program has now ended. Fees for the 53s and 61s are $440.00 per player.
$10 OPEN HITTING AT PLAY BALL USA EVERY MONDAY NIGHT IN FEBRUARY AT 8:30 TO 10:30 PM
EVERY MONDAY AND WEDNESDAY NIGHT IN MARCH AND APRIL AT 8:00 TO 10:00 PM
MULTIPLE BATTING CAGES, MOUNDS, TURF AREAS FOR LONG TOSS AND GROUNDERS
412 E. BUSINESS CENTER DR. MT. PROSPECT, IL. (JUST EAST, OFF RAND RD. 1/2 MILE NO. OF CENTRAL)
Congratulations to the CNMSBL and it's membership on the Leagues induction into "The Skyway Conference" sports Hall Of Fame for it's support and partnership with Oakton Community College Academics, Sports & Baseball for the past 25 years !



Oakton Owls defeat 4 Time Champion Tyler (Tx) 14 to 11 in a 13 inning marathon today to become National Champions !!!! Congratulations to Head Coach Fratto and his staff as well as the entire Oakton squad.
Congratulations to those awarded at the 2019 annual Pitch and Hit Club Banquet
2019 Award Winners will receive their award at this years banquet Jan 27th at the Tinley Park Convention Center, tickets are available contact Max Reising for more information.
Lou Boudreau Hall of Fame:

Ken "Hawk" Harrelson

Ron Santo Inspiration Award:

Ralph Peterson

Harry Caray Sportscaster of the Year Award:

Dan Plesac

Bill Gleason Sportswriter of the Year:

Dick Goss

Nick Kamzic Scout of the Year Award:

Michael Medici

Mary Frances Veeck Woman of the Year Award:

Natalie Niekro

College Coach of the Year:

Bill Fratto Oakton Community College

Chicago Area Minor League Player of the Year:

Corey Ray

Len Diforte Amateur Baseball Service Award:

Mark Bajenski

College Player of the Year:

Bren Spillane (Drafted by Reds in 3rd round)

Lifetime Achievement Award:

Jeff Szynal

Chicago Rookie of the Year:

Dan Palka

Major League Coach of the Year:

Pat Murphy

High School Coach of the Year:

Sean Mason

Youth Organization of the Year:

Steven Korbal

Professional Organization of the Year:

Joliet Slammers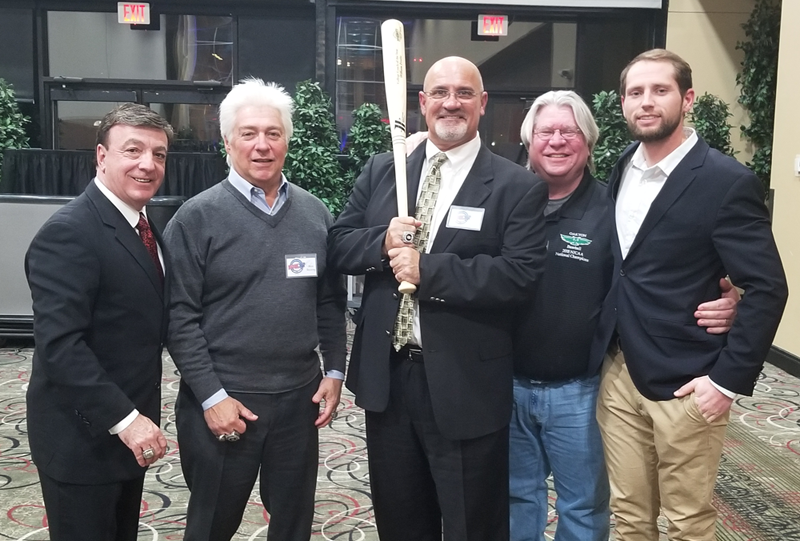 From left to right: Mike Pinto founder of the cnmsbl, GM and manager of the Frontier league Mariom Minors and former head coach at Oakton. Max Reising Oakton Coach, Bill Fratto Head Coach, Bruce Oates A.D. Oakton and Ryan Tuntland current coach at Oakton, former player there and at West Virginia and former minor league player for the S.F Giants 3 seasons.
The 2019 Season marks our 32nd year of providing the best adult baseball league experience in the Midwest .
April 2016 WGN Promo on our league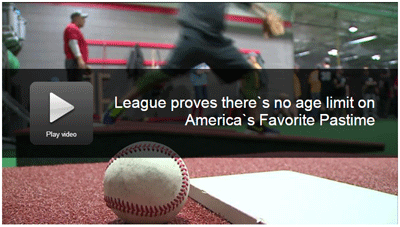 FYI, in the case of a medical emergency at a game at Rec Park, send someone to the Pool and for help from the life guards, they will be able to assist till the responders arrive. Always call 911 immediately
Dr. Preston Wolin serves as the director of sports medicine at Weiss and a pitching coach at Ida Crown.