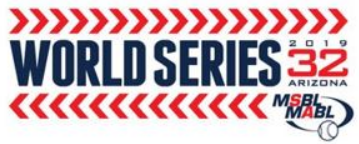 Arizona World Series Tournament
October 13 - November 2
We have blocked off rooms at the Embassy Suites in Scottsdale from Oct 8th through Nov 6th.
Book Your Hotel Reservations Now!
The rate is $ 145.00 for up to 3 people per suite. Our Group Name is "CNMSBL - CHICAGO NORTH CUBS" and our Group Code is CUB.
Hotel and Car Info
Tournament Info Website
LEAGUE MESSAGE


The Hit Musical "MIRACLE"
Based on the 2016 Chicago Cubs Championship Season
CNMSBL members recieve a 25% discount - Now through Sept. 29th
Click Here for more information
THE OAKTON OWLS ARE HOSTING THEIR FIRST ANNUAL OAKTON BASEBALL ALUMNI GAME AT OAKTON NEXT SATURDAY OCT 5TH 12:00 PM. ANY FORMER PLAYERS ARE WELCOME TO PARTICIPATE . MEMBERS OF THE LEAGUE SHOULD COME OUT AND SUPPORT THIS EVENT. FOR MORE INFORMATION CONTACT COACH RYAN TUNTLAND AT 847-942-8274 OR CONTACT MAX REISING .



The Rangers win first 65 Classic Championship Congratulations !


The 24 Rippers win the 24 Division Championship 3 games to 1 Congratulations!
The 1917 White Sox win the 61 Div 2 games to 0 Championship Congratulations !


The Dodgers win the 53 Division Championship series down 2 games to none, run off 3 straight wins Congratulations !




The Woodpeckers win the 44 AAA Division Championship 2 games to none Congratulations !




The Riverbandits win the 44 AA Div Championship 2 games to 1 with a walk off run in the bottom of the 12th ! Congratulations !




The Woodpeckers win the 34 Division Championship for a 5-Peat Congratulations !
The 2019 Season is has officially come to an end. The Champions have be declared but all of the CNMSBL membership are champions in their own right. We've gone through 177 weather related cancelations and make ups, played 625 regular season games and 97 Post Season games and had a great time doing so. We should all look at how fortunate we are to be able to spend five and half months playing the game we all love with our friends many old and just as many new.
I want to thank all of the people who work on our fields to get them ready under all kinds of conditions so we can play at first rate facilities.
I want to thank all of the league officials who give up their time to be part of the team that makes this the best adult baseball league in the Midwest. Credit also goes to all of the managers who send endless emails , text messages and phone calls getting their player to turn out for the games. It is truely a collaborative effort to make this work.
The league officers will be busy at work after the Arizona World Series and the Florida Fall Classic preparing for 2020 our 33rd season and we will endeavor to make it better than ever. Good luck to all who are playing in the various tournaments.
Max Reising
Pres.

POST SEASON REMAINING SCHEDULE

SUN OCT 6TH 3:30 PM OAKTON 44 AA DIV CHAMP GM 2 RIVERBANDITS

3

@ YANKEES

5


SUN OCT 6TH 7:00 PM OAKTON 34 DIV CHAMPIONSHIP GM 3 WOODPECKERS

8

@ ACES

11


MON OCT 7TH 6:30 PM OAKTON 44 DIV AA CHAMPIONSHIP GM 3 YANKEES

2

@ RIVERBANDITS

3 12 Inn Riverbandits Champions


MON OCT 7TH 9:00 PM OAKTON 34 DIV CHAMPIONSHIP GM 4 ACES

2

@ WOODPECKERS

7 Woodpeckers Champions





OPEN HITTING AT PLAY BALL IS OFFICIALLY OPEN!!!
$10 PER PLAYER - 8:30 PM to 10 PM EVERY MONDAY NIGHT
MULTIPLE BATTING CAGES, MOUNDS, 3 TURF AREAS FOR LONG TOSS AND GROUNDERS
412 E. BUSINESS CENTER DR. MT. PROSPECT, IL. (2ND BUILDING EAST OF RAND RD. 1/2 MILE NO. OF CENTRAL)
Congratulations to the CNMSBL and it's membership on the Leagues induction into "The Skyway Conference" sports Hall Of Fame for it's support and partnership with Oakton Community College Academics, Sports & Baseball for the past 25 years !



Oakton Owls defeat 4 Time Champion Tyler (Tx) 14 to 11 in a 13 inning marathon today to become National Champions !!!! Congratulations to Head Coach Fratto and his staff as well as the entire Oakton squad.
Congratulations to those awarded at the 2019 annual Pitch and Hit Club Banquet
2019 Award Winners will receive their award at this years banquet Jan 27th at the Tinley Park Convention Center, tickets are available contact Max Reising for more information.
Lou Boudreau Hall of Fame:

Ken "Hawk" Harrelson

Ron Santo Inspiration Award:

Ralph Peterson

Harry Caray Sportscaster of the Year Award:

Dan Plesac

Bill Gleason Sportswriter of the Year:

Dick Goss

Nick Kamzic Scout of the Year Award:

Michael Medici

Mary Frances Veeck Woman of the Year Award:

Natalie Niekro

College Coach of the Year:

Bill Fratto Oakton Community College

Chicago Area Minor League Player of the Year:

Corey Ray

Len Diforte Amateur Baseball Service Award:

Mark Bajenski

College Player of the Year:

Bren Spillane (Drafted by Reds in 3rd round)

Lifetime Achievement Award:

Jeff Szynal

Chicago Rookie of the Year:

Dan Palka

Major League Coach of the Year:

Pat Murphy

High School Coach of the Year:

Sean Mason

Youth Organization of the Year:

Steven Korbal

Professional Organization of the Year:

Joliet Slammers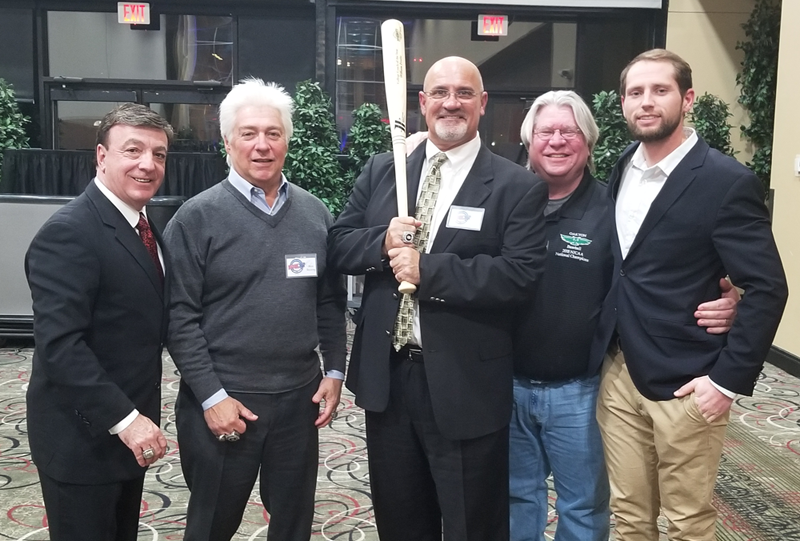 From left to right: Mike Pinto founder of the cnmsbl, GM and manager of the Frontier league Mariom Minors and former head coach at Oakton. Max Reising Oakton Coach, Bill Fratto Head Coach, Bruce Oates A.D. Oakton and Ryan Tuntland current coach at Oakton, former player there and at West Virginia and former minor league player for the S.F Giants 3 seasons.
The 2019 Season marks our 32nd year of providing the best adult baseball league experience in the Midwest .
April 2016 WGN Promo on our league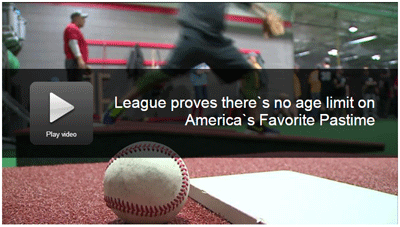 FYI, in the case of a medical emergency at a game at Rec Park, send someone to the Pool and for help from the life guards, they will be able to assist till the responders arrive. Always call 911 immediately
Dr. Preston Wolin serves as the director of sports medicine at Weiss and a pitching coach at Ida Crown.
24+
Aces
Manager Jason Rivero
34+
Woodpeckers
- Four-Repeat Champs!
Manager Tony Pacella
44+ A Division
Royals
- Four-Repeat Champs!
Manager Kal Tate
44+ B Division
Yankees
Manager Reid Stiefel
54+
Reds
Manager Neil Coop Cooper

62+

Mudville 9
Manager David Pick Pickering & Thomas Greek Spathies
President
Max Reising
maxr13cn@gmail.com
Vice President
Chuck Harper
buspev6@yahoo.com
Treasurer
Steve Faigin
Sfaigin@wmace.com
Communications/Fund Raising Director
Ross Wolfson
rwolfson@hrcontracting.com
Player Personnel Director & 24+ Commissioner
Mark Horwitz
mihorwitz@hotmail.com
Website Director
John "Web" Avila
webmaster.cnmsbl@gmail.com
34+ Commissioner
"Jersey" Joe Schwenk
joschwenkjr@comcast.net
44+ Commissioner
Reid Stiefel
reidlawyer@msn.com
53+ Commissioner
Ed Gunther
appled@sbcglobal.net
61+ Commissioner
Steve Obert
steveobert@msn.com
65+ Commissioner
Robert Friedman
rfriedman@bensman.com