LEAGUE MESSAGE
Play Ball USA will be starting a brand new HitTrax Hitting League beginning October 30. This head-to-head competition a great way to keep the competitive juices flowing in the offseason.
Minimum 4 Players Per Team (No Limit) ; Simulated Game Using HitTrax and Iron Mike Pitching Machine ; Including Real Game Action - Hits, Walks, Strikeouts. You're playing a live video game!
Costs about $20/player per Week - Only $10 more than open hitting! The 8 Week League Begins October 30 , Monday Nights 8:00-11:00 (Will Open Sunday Times For Additional Teams If Needed)
Team Fee - $799 ; Individual Fee - $224
Weekly Structure/Rules
-Teams of 4-6 players will compete head to head against another team.
-Team will hit off an Iron Mike pitching machine being tracked on our HitTrax system for strikes, hits, outs, etc, simulating a real game!
-Game will last 7-9 innings based on the time allowed.
***Prize for winning team $400.00***
TO REGISTER: https://tms.ezfacility.com/OnlineRegistrations/Register.aspx?CompanyID=3151&GroupID=1964334
The 2017 Season marks our 30th year of providing the best adult baseball league experience in the Midwest .
April 2016 WGN Promo on our league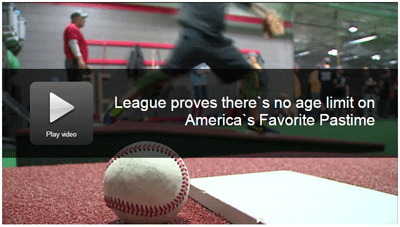 FYI, in the case of a medical emergency at a game at Rec Park, send someone to the Pool and for help from the life guards, they will be able to assist till the responders arrive. Always call 911 immediatel
Dr. Preston Wolin serves as the director of sports medicine at Weiss and a pitching coach at Ida Crown.